UK and especially London seems to be like a second home for Bollywood stars.
I have had the pleasure to shoot several bizasialive.com  interviews, which Amrita Tanna had with big Bollywood stars who happen to be in London for promotion or concert or more private purposes.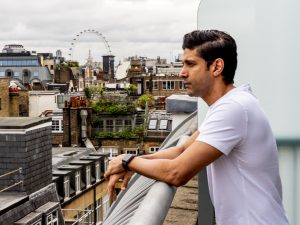 In the last two days, we met Farhan Akhtar and Arjit Singh.
Farhan Akhtar came to London to promote his debut single. For those who don't know he is a producer, director, actor and musician. He is very down to earth and the atmosphere was very relaxed. His new album is in English and one song is already very successful in Germany. After Brexit, Bollywood might need to make stop overs in Berlin, as well. Farhan also played another song after the interview. lt is supposed to come out later in the year. It's a very nice and well arranged song. It reminded me of the Travelling Willburys and has the potential to be a hit internationally.
Arjit Singh is a big name as singer in India. We met him at Heathrow where he had a stopover. Today – as I am writing – he will have a concert in Leeds. As you will see in the interview, also Arjit is a very warm and unpretentious guy.  If you wonder, the location was the Novotel. Unfortunately , we made the interview when it was already dark, otherwise we could have taken advantage of the light coming through the huge glass ceiling of the hotel.
More information about the scene, have a look at bizasialive.com.