( Exhibition 'Helmar Lerski, Pioneer of Light' at Musee d'art et d'histoire du Judaisme, Paris – until 26 August 2018 )
My article comes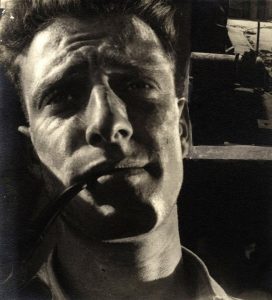 a bit late as the exhibition finishes on 26 August 2018, but I was in Paris only these days.
Helmar Lerski, born in Strasbourg in 1871 into a Polish-Jewish family, emigrated to the USA in 1891 where he worked as a German speaking actor, but opened a studio of photography in 1909.
He developed a sense for an expressionist photographic style in the US. In 1915, during WWI, he went to Berlin and started to work in the cinema industry – as director of photography, cameraman and as technical director for the Schuefftan- technique. The most famous movies he worked on in different roles were Opium (1921), Wachsfigurenkabinett (1924), Der Heilige Berg (1926), Metropolis (1926) and Sprengbagger 1010 (1929). The latter I only mention as it was a curiosity at its time. It was 're-discovered' on the Berlin Filmfestival of this year in the retrospective of Weimarer Republic cinema. In the late Twenties he increasingly focused on photography again. In the beginning he made portraits of artists and intellectuals of that time and later of ordinary people. One portrait photo shown in the exhibition has a very strange connotation. It shows the young Veit Harlan, the infamous later Nazi director who made for Goebbels the antisemitic movie 'Jud Suess' and the last Nazi-film 'Kolberg'.
In 1931, he went to Palestine to work on a series with portrait photos of mainly Jewish people. In the following year, he settled there. He continued to work as photographer, but also made films, what we would call promotional films. These were films for Zionist organisations, most notably the 50 minute film 'Avoda', which is shown in the exhibition.
His portrait photos were expressive. He used strong light, mirrors and reflectors to dig into the faces. His aim was to 'bring out the soul of the people'. Often he created light sources from both sides where parts of the face along the nose line are rather dark. His photos were not flattering. They were honest, but still tender.
His film Avoda is an interesting film. The purpose was to make promotion for the Zionist organisation 'United Israel Appeal'. Avoda means work and it tells the story of an European coming to the promised land, joining settlers and working together to build streets and find water. It is a film about the pioneers of Israel. Beautifully told with expressionist images, quite often in close-ups, influenced by Soviet films, the film was not seen as so effective in terms of a promotional film. Even at that time I assume it seemed to be too arty. From nowadays perspective, it is a beautiful film and it gives a fascinating insight in what it meant to settle and rebuild their life in Palestine.
A highly recommendable exhibition – and by the way, bring along a bit more time as the entire museum is worth a visit.